With LibertyNET DigitalCabiNET version 2.0, companies can easily access and manage electronic files without the cost of an enterprise content management solution.

Now web-enabled, DigitalCabiNET provides remote users the ability to interact with documents as if they were sitting at company headquarters. DigitalCabiNET is a full-featured product that remains easy to use. Perhaps the best part is that as your company grows, DigitalCabiNET grows with it. Built on the LibertyNET platform, DigitalCabiNET can seamlessly upgrade to either a larger departmental product or a world-class enterprise solution.



PRESENTATION: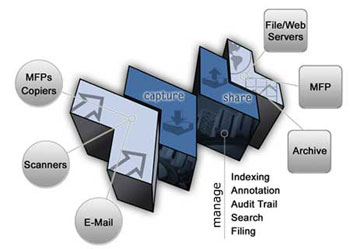 View web-client screen shot View thick-client screen shot

But first things first. If you currently have trouble keeping up with paperwork or are losing office space to file cabinets, you should consider an electronic filing system. DigitalCabiNET not only organizes your files, but actually saves you money by automating tasks and improving productivity.

Every time you press "copy" on your office machine, you can automatically send that document to the correct folder on your computer or company network. Once in the system, the documents become searchable knowledge that can be viewed, printed, faxed or emailed. Security levels can be set to protect sensitive information. A straightforward interface allows users to quickly perform essential document management tasks such as indexing, full-text searching, annotation, auditing, optical character recognition, importing, merging and disaster recovery, among others.

DigitalCabiNET offers easy integration with multi-function office peripherals, instantaneous document retrieval, built-in delivery options and virtually unlimited storage space.

Features
Benefits

| | |
| --- | --- |
| | Seamless capture: Add files scanned from a digital Multi-Function Peripheral (MFP) directly to DigitalCabiNET. |
| | Image recognition: Each page can be OCR'd, making the text available for searching by any keyword(s) in a document. |
| | Custom filing structure: Similar to a traditional cabinet, each of the 10 virtual CabiNETs has six separate drawers and each drawer has 26 folders (A-Z). Rename them all to suit your needs with a right-click. |
| | Easy searching: Quickly retrieve documents by browsing file folders, searching for a specific index value or by any keyword or phrase within a document. |
| | Disaster recovery: DigitalCabiNET ensures a secure archival of a company's essential documents. |
| | Audit trail: Keep track of vital information for auditing purposes, such as the mark-up. |

Cost-effective:
DigitalCabiNET can quickly pay for itself through improved employee productivity and reduced storage space and costs.
Save time:
DigitalCabiNET enables companies to properly manage and quickly access documents, transforming information into searchable knowledge.
Easy to use:
DigitalCabiNET's software makes document retrieval easy. Just point and click at the cabinet, folder and document, and it appears instantly on your screen!
Expand your business:
DigitalCabiNET protects your investment with a clear upgrade path to your future needs. Effortlessly grow from a small business edition to a full enterprise solution supporting scores of users.

PRODUCT SHORTCUT



MODULES
PDF/Native Viewers
Allows external file types (MS Word, Excel, PDF, etc.) to be imported and viewed in their native format.
OCR
This option enables advanced OCR by workstation.
Automation
Automation bundle for barcode bursting and indexing.
WHAT'S NEW IN 2.0
Thin-client version
Now in version 2.0, users can access documents using a web browser.
Metadata input
Index documents at point of scan using supported MFPs.
XML import
XML import directory to import PDF files and index data from form creation software.
Index search
Enjoy full-index searching capabilities.
Expanded security
Different levels of security (administrative and view only) dictate which features are available.
Improved e-mail
Drag-and-drop e-mail is enabled, and attachments show as sticky notes.
Download Brochure

CONTACT US

SBJ Automatisering
Postbus 33
1462 ZG Middenbeemster
Netherlands

Phone: +31(0)299 685172
Fax: +31(0)299 685245

info@sbj-automatisering.nl